Home

Call us now on... 0412 149 176 

Led by world renowned Master Dr Jon Hodson, awarded 
"Master of the Year - Ninjutsu" by the World Professional Martial 
Arts Organization, at the Hall of Fame Honorary Award Ceremony 
in New York, 23rd February 2014...

Bujinkan Melbourne - Ninjutsu Melbourne - Ninja Training Melbourne
Self Defence - Kuji-In - Reiki - Short Courses - Security Agency

"...as real as it gets!"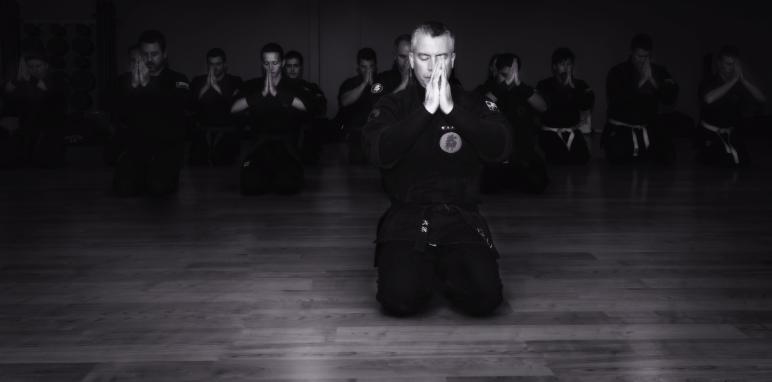 A warm welcome to the Hands On Defence - Spirit Of Ninjutsu
website - a website incorporating the Bujinkan Melbourne Dojo's that
provide Bujinkan Ninjutsu Melbourne/Budo Taijutsu martial arts
training.

We provide an exciting and unique service offering encompassing
self defence/personal protection, security services, short courses,
spiritual enlightenment training and a whole lot more!...

- services that we are passionate in...and certainly we feel very
proud when we receive feedback for our services like: 

On executive leadership..."Dear Dr Jon, in this year of reflection, I look
back at all the leaders who had an influence in my life and you are amoungst
the elite few.  Thank you and God bless.  May all who cross your path
benefit from your fellowship."

or another example regarding the teaching of Ninjutsu..."...you are an
amazing Teacher, and an enlightened person who inspires us in many ways.
Anyone who knows you can vouch that you genuinely have no ego, and teach
the art form in a manner that is realistically based - not to mention a safe
environment"

or another example on being Sensei of the Bujinkan Melbourne Dojo...
"Sensei, I would like to thank you for sharing & teaching us this beautiful
art. I would have never thought that I would become a martial artist and
specially being taught by such a wonderful Sensei.  I am forever grateful."
[Note: For more feedback comments of our services - refer 'Events' tab]

...so what is it that we offer? Well this website provides information
about our four core service offerings, namely:

1-Bujinkan Melbourne Ninjutsu/Budo Taijutsu Martial Arts Training
2-Short Courses; Self Defence, Human Investigation Management,
'Reiki' & 'Kuji-In'
3-Security Operations/Training & Investigative Services, and 
4-Consulting Services

Overview of core service offerings:

Service Area 1 - Bujinkan Melbourne offers a Bujinkan Ninjutsu/Budo
Taijutsu special forces military combat style of martial arts Schooling
for adults (and non-safety training weapon - children specific - classes
under the 'Hands On Defence' banner) - all aspects providing truly
effective skills in self protection - that will also  help you get trim, firm-up
and feel great doing it!

We are Australia's premier Ninjutsu training centre, providing
a comprehensive mind, body & spirit training curriculum that is led by one of
the highest qualified ninjutsu master instructors/related budo taijutsu skill
areas, in the world!.

We also operate one of the largest Bujinkan Ninjutsu Schools for adults
across Melbourne with a membership that includes current and/or past;
Security/Prison/Police Officers, Defence Forces, Special Ops members,
other martial artists (making the change from styles including; Tae Kwon
Do, Karate, Judo, Muay Thai, Kung Fu, Wrestling, Boxing, MMA, etc), as well
as men & women who just want to pursue a street effective art - who have no
previous martial/fighting art experience - in short, catering for all
experience levels!

We are a unique Bujinkan School that is based in Australia teaching the
once secret art of the ninja using traditional 'dojo' (internal) training
complemented with access to regular external ('budo' warrior related)
physical as well as Spiritual development events!

Our training is conducted at numerous facilities located south-east of
Melbourne as well as regional Victoria, led by internationally renowned
and awarded Master Teacher (Shihan Shidoshi) Dr Jon Hodson,
Jugodan (15th Dan) Black Belt in Bujinkan Ninjutsu & Budo Taijutsu
(the highest Black Belt 'dan' rank achievable in the Bujinkan - the
highest level achievable) comprising: Ninjutsu/Ninpo Taijutsu, 
Jutaijutsu, Koppojutsu, Koshijutsu, and Dakentaijutsu.

There is also occasional (by private invitation only) access to Master
Hodson's own private training cente; 'Buyu Retreat' (Warrior Friends
Retreat) on a 60+ acre site in a secluded forest - the property including
approx. 200m2 inddor dojo training area, two airstrips, aircraft hangar (for
those adventourous enough to 'fly-in/fly-out'!), landscaped dam...and close
proximity to other air training operations e.g. parachuting centre, water
training at a large lake system as well as visiting historic mine sites...and
more!  The site and associated facilities making 'Hands On Defence
- Spirit Of Ninjutsu' arguably a world leader in the field of
outdoor as well as indoor ninjutsu and budo taijutsu training!

Master Hodson is an Ordained Priest and accredited Spiritual Master/Bishop
of a Mikkyo/Vajrayana Esoteric Buddhist Tradition and is a Member
of a Grand Master's Council and is also a fully certified member of the
Bujinkan International Shidoshi-Kai (Instructors Association), head-
quarters based in Japan.  He is also Administrator for the Bujinkan
Australia Facebook Group.

- for more information on our Chief Instructor Master Dr Hodson, please
refer to the 'Ninjutsu Instructor' tab, and for more information
about the art of Ninjutsu, or where our classes are held, or the
importance we place on student safety, please refer to the 'Bujinkan
Melbourne', 'Ninjutsu Classes', and 'Safety'tabs!

As the Bujinkan Melbourne, we provide self defence training sessions
throughout the week (Monday, Wednesday & Friday evenings) in addition
to exciting outdoor special interest events designed to develop/hone
skills related to the art of the Ninja! (Refer to the 'News' section
located on the side of the website & 'Events' tab - simply awesome!!)

Service Area 2 - We offer programs including short courses in self
defence, human investigation, spiritual development (through the hands-on
energy art of 'Reiki') and the esoteric mind/body art of the spiritual
warrior 'Kuji-In'. These programs are modern, professionally led, effective
and provide efficient & effective skills no matter where you might need them
e.g. be it on the street, in the workplace or at home!

Our programs take principles from the Japanese based arts of Ninjutsu,
Budo Taijutsu, Reiki, Seichim, as well as the esoteric Buddhist art of
Kuji-In as well modern human investigation management practices
(as created by the Director-General of ISIO!) - and through a series of
sessions, help to develop you and your abilities, for example in dealing with
an armed confrontation through to extracting reliable accurate information
from others.

We have had excellent feedback on all of our programs from past graduates,
including women who have had to use some of the self defence skills in a real
confrontation...and yes they prevented the situation from escalating.

- for more information on this real-life situation, and/or further
information on the aims & activities of the various programs we offer,
refer to the 'Short Courses' and 'Kuji-In' tabs!

From both the martial arts school and through the short course
training programs that we offer, we teach modern, dynamic and
effective application of the arts strategy, principles and techniques.
Our training objectives aim to help our students to:

- Develop levels of self-confidence
- Improve knowledge and skill in the related arts
- Enhance a positive outlook and attitude on life
- Increase respect for others in society
- Improve attention span and the ability to focus
- Improve levels of fitness (from natural body movement)

In short, all of our training is conducted in an open, safe and enjoyable
manner, is based on the power of natural movement and is affordable
providing you with quality, expert tuition at convenient locations & class
times.

- if you would like to hear examples of feedback we have received on how we
conduct our training then please see the feedback received section under
the 'Events' tab!

Note: the martial arts school provides a complete martial arts experience
however is currently only offered to men & women who are over 18 years of
age.

Service Area 3 - Through our international security academy trained chief
instructor, Dr Hodson holds a individual private security license with Victoria
Police and can be contacted to discuss security operations/training &
investigative services - be the need be as a private security trainer/adviser,
bodyguard, private investigator, crowd controller, unarmed/armed guard,
cash-in-transit officer, or simply as support as a control room or monitoring
centre operator.

- for more information on any of these services, refer 'Security Ops'tab!

Service Area 4 - For all related consulting services, our 'Teckno Consulting
Services' business offers management consulting/advisory to our clients
stemming both the public and private sectors.

- for more information on our consulting service areas, refer 'Consulting' tab!

_________________________________________________________

Thank you for visiting our website and we hope that by reading the attached
web pages, we would have excited you with our services and answered at least
your initial questions...however if not, please do not hesitate to contact us using
the 'Contact Us' tab!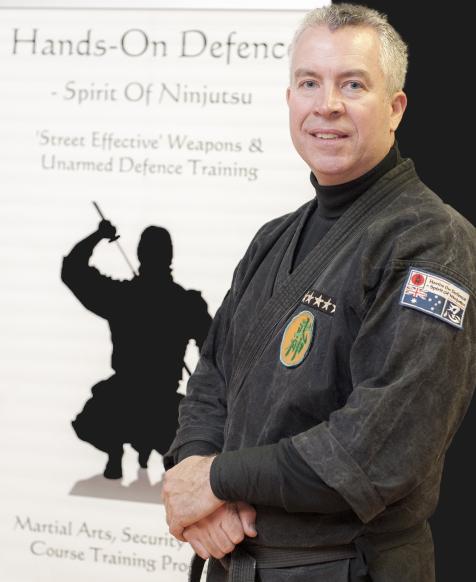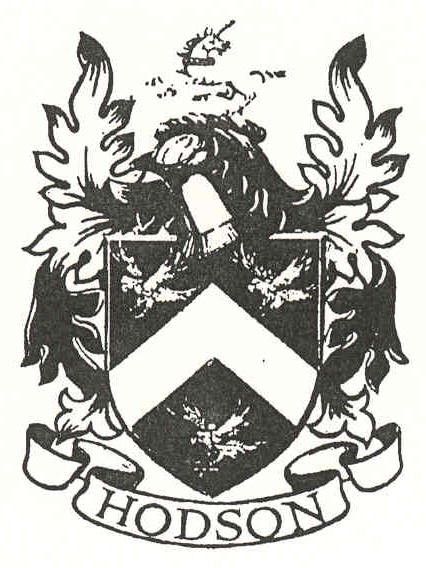 Yours in Budo,
Master (Professor, Doctor, Reverend) Jon Hodson, Chief Instructor
FAICD, FAIM, FTIEAust CEngT NER (Leadership & Management), FISIO, CATS, CHIMC,
TTMC, CISM, CIPM, CISCP, CISCM.

Accredited Spiritual Master/Bishop ('Acharya') by the Mahajrya Buddhist Tradition, 2017
Accredited 'Master Coach' & 'Certified Master Instructor' by Martial Arts Australia, 2017
Accredited 'Certified Anti-Terrorism Specialist' by the Chartered International Institute
of Security and Crisis Management, 2016.
Awarded 'Certificate of Achievement' Outstanding Achievement in Teaching GTS
(Master's Degree Program, MANU2150) by RMIT University, Melbourne, 2015.
Awarded 'Master of the Year - Ninjutsu' by the World Professional Martial Arts
Organization, New York, 2014.
Awarded 'Professor' (Ninjutsu) by the U.S.Grand Masters Council, 2014.
Accredited Security Industry Firearns Instructor by Victoria Police, 2013 (recertified 2016).
Awarded 'Star Award' & 'PwC Experience Award' by PwC Consulting, 2010, 2011, 2012
Awarded 10th Dan Black Belt (Shihan/Master Teacher) Ninjutsu/Budo Taijutsu, Bujinkan, 2009.

Inducted Lifetime Member, U.S.Grand Masters Council
Master Teacher, (Shihan 15th Dan) Bujinkan Ninjutsu/Budo Taijutsu
Spiritual Master ('Acharya'), Mahajrya Buddhist Tradition
Master Coach/Master Instructor, Martial Arts Australia
Master Teacher, Kuji-In - Nine Esoteric Seals of the Transformational Approach
Master Teacher, Usui Reiki
Master Teacher, Seichim
Master Knight, (Sir) Jon Hodson, Mystic Knighthood of the Crowned Heart
Master-in-Mind Human Investigation Management Trainer, ISIO
Master Practitioner, Neuro-Linguistic Programming
Master of Business Administration
Doctor of Technology, Operations Strategy/ Excellence, Deakin University
Doctor of Philosophy, Martial Science, Honorary, International University San Diego
Professor (Ninjutsu), U.S. Grand Masters Council
Ordained Priest (Adyapaka/Dikshaka), Mahajrya Buddhist Tradition
Lecturer (for Master's Degree Program), RMIT University
Disciple, Zen Buddhism, Bao Lin Chan Monastery

Bujinkan Australia Facebook Group Administrator

Certified Anti-Terrorism Specialist, Chartered International Institute for Security & Crisis Management
Certified Human Investigation Management - Criminology, ISIO
Certified Human Investigation Trainer and Examiner, ISIO
Diploma, Vocational Education & Training
Diploma, Training Design & Development
Company Directors Diploma, Australian Institute of Company Directors

Victoria Police Licensed Security Trainer (incl. Firearms Instructor)
Victoria Police Registered Security Adviser
Victoria Police Licensed Investigator
Victoria Police Licensed Bodyguard
Victoria Police Licensed Armed Guard
Victoria Police Licensed Cash-In-Transit
Victoria Police Licensed Unarmed Guard/Crowd Controller
Victoria Police Licensed Control Room Operator
Victoria Police Commissioner Approved (Prohibited Weapons)
State Licensed Operative (Numerous Vehicle Types - Sea, Air, Land)

Contact us: jon.hodson@handsondefence-spiritofninjutsu.com
Email: jon.hodson@bujinkanmelbourne.com

Facebook: https://www.facebook.com/#!/bujinkanmelbourne
LinkedIn: http://au.linkedin.com/in/dr-jon-hodson-mba-faicd-faim-tfieaust-cengt-ner-b6a05818/

"As Below, So Above.  As Above, So Below"
"One Thing, One Mind"
"All is One"