Security Ops

Call us now on... 0412 149 176

Bujinkan Melbourne - Ninjutsu Melbourne - Ninja Training Melbourne
Self Defence - Kuji-In - Reiki - Short Courses - Security Agency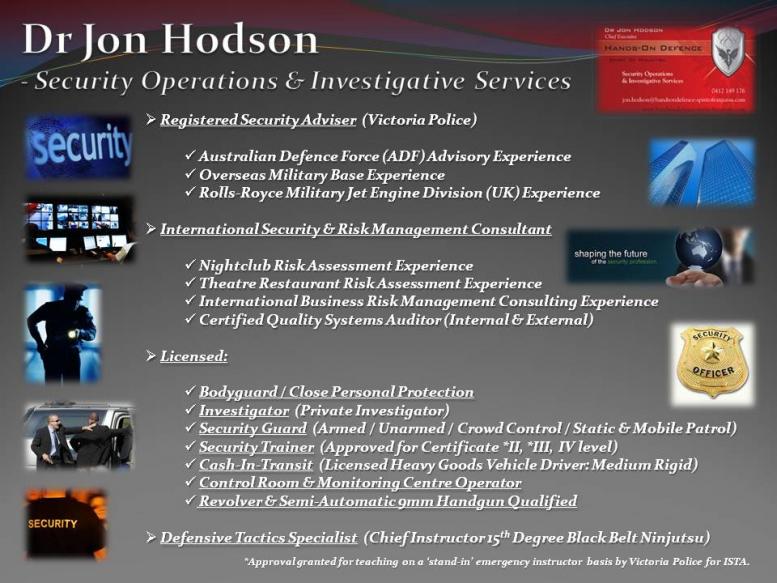 'Hands On Defence' can be employed* to provide security
operations, private security training and/or investigative related
services to licensed security businesses in Australia - be the
need arise from either the public, private, national defence
or corporate sector.
Dr Hodson is a certified Defensive Tactics Instructor (incl.
Batons & Handcuffs), a Police approved Firearms Instructor
(incl. Pistol & Revolver) and holds an Individual Private Security
Licence endorsed by Victoria Police in the security operational
areas relating to:

- Bodyguard (e.g. to access, analyse and supply services to ensure the
safety and protection of clients be they an individual, a celebrity, a
corporate executive or government official, etc)

- Armed Guard (e.g. to protect, watch or guard any property within
such venues as financial institutions, private and/or corporate entities)

- Cash-In-Transit (e.g. to protect, watch and guard valuables and/or
cash in-transit from a property to another location, etc)

- Crowd Controller (e.g. to provide crowd control duties at events,
clubs, hotels, night clubs, etc)


- Unarmed Guard (e.g. to provide unarmed guard duties for company
reception, corporate foyer, building facilities, court, airport,
government department, shopping centre, etc)

- Private Security Trainer (e.g. provision of security industry training
related services)

- Investigative Services (e.g. provision of Private Investigator related
services)

- Security & Risk Management (e.g. to provide assessments of security
operations & staff in accordance with ISO31000:2009 incl. security
advisory)

- Monitoring/ Control Room Operator (e.g. to provide support to
clients with control room services communicating to clients/ guards
such as that needed in large facility management complex, etc)

Notes:
(1) *Dr Hodson does not have a security business license, nor is a
Registered Training Organisation (RTO) - thus all services provided
are as an Individual licensed operative only thereby requiring the
business to whom services are contracted/ employed to have its own
security business license and/or be a Registered Training Organisation
(RTO) in its own right e.g. if service involves training security officers.
(2) For 'Armed guard' & 'Cash-in-transit' duties, Dr Hodson is
qualified to carry revolver, semi-automatic handgun, baton & hand-cuffs.
(3) All firearms will need to be supplied by the requesting entity on
an operation 'as needed' basis.
(4) For the past three years, Dr. Hodson registered as a Victoria Police
approved RTO trainer with International Security Training Academy
(ISTA).
(5) Since December 2015, Dr. Hodson is a Principal Preferred Partner
(Australia) and accredited Trainer of the 'Master In Mind' training
programs in human investigation management (lie and deception
detection methods) on behalf of the International Security Industry
Organisation (ISIO).

At the heart of our security services is our code of ethics & core
Values, namely:

- To ensure confidentiality
- To apply professional discretion in all matters
- To provide services that are non-political & non-sectarian
- To recognise equal opportunities & diversity of backgrounds
- To provide services in an ethical manner
- To be reliable and trustworthy

...if you are interested and would like to have a confidential
discussion about a potential security operations service need, then
please contact Dr Hodson directly on mobile 0412 149 176 or
email us at: securityoperations@handsondefence-spiritofninjutsu.com

Email: jon.hodson@bujinkanmelbourne.com

Facebook: https://www.facebook.com/#!/bujinkanmelbourne
LinkedIn: http://au.linkedin.com/in/dr-jon-hodson-mba-faicd-faim-tfieaust-cengt-ner-b6a05818/