Consulting

Call us now on... 0412 149 176

Bujinkan Melbourne - Ninjutsu Melbourne - Ninja Training Melbourne
Self Defence - Kuji-In - Reiki - Short Courses - Security Agency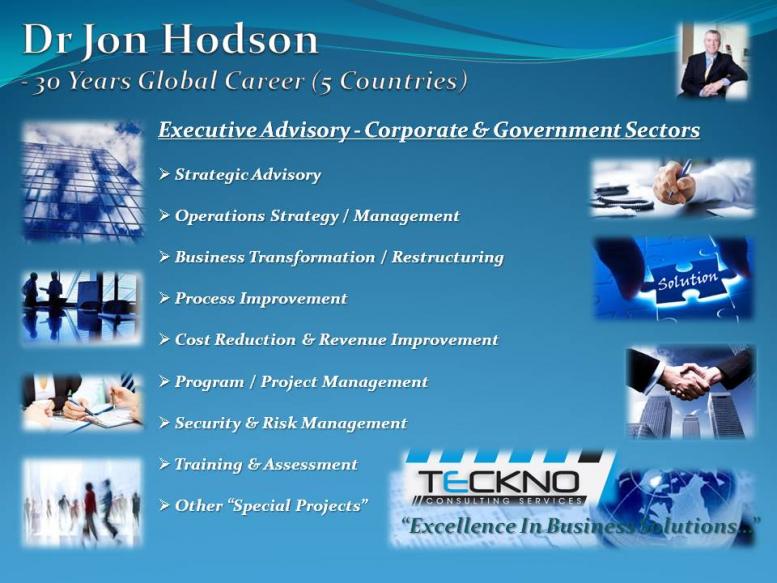 Example Student Feedback for Dr Hodson as a Lecturer at
a Top Melbourne University (RMIT University, Master of
Engineering Course, Semester 1, 2013)...

"I think that your course provided me with the skills that
differentiated me from the other candidates.  Further, your
personal story and teaching on career planning has been an
inspiration for my own future."

For all consulting related services, Dr Hodson (through Teckno
Consulting Services; www.tecknoconsulting.com ) is highly
qualified and experienced in management consulting having
over 15+ years specialist consulting experience (as part
of a 30 year career spanning five Countries).


Examples of Business Education


- Doctor of Technology
(Operational Excellence)
Deakin University
- Master of Business Administration
RMIT University
- Diploma
, Company Directors Program
Australian Institute of Company Directors, AICD
- Graduate Diploma
(Manufacturing Management)
Victoria University
- Diploma (Vocaional Educational Training)
Plenty Training
- Diploma (Training Design and Development)
Plenty Training
- Executive Engagement Program
University of Melbourne

- Advanced Certificate In Management
Chisholm College
- Fundamentals of Management
Australian Institute of Management
- Higher National Certificate
(
Production Engineering
)
University of West England (UK)
- Ordinary National Certificate
(
Mechanical Engineering
)
Rolls Royce & Brunel Colleges (UK)


Summary of Professional Memberships


- Fellow
, Australian Institute of Company Directors
- Fellow
, Australian Institute of Management
- Fellow Technologist, Institution of Engineers Australia


Examples of Dr Hodson's Leadership & Board Positions (Last 15 years)

- Teckno Consulting Services
Chief Executive
- Hands On Defence - Spirit Of Ninjutsu
Chief Executive & Chief Instructor

- Bujinkan Melbourne Dojo's
Chief Execuive & Chief Instructor
-

PricewaterhouseCoopers (PwC Consulting)
Executive Director / Principal

- Booz & Company
Principal / Executive Advisor

- KPMG (Advisory)
Director

- Invetech
Asia

Managing Director & Chairman
- Smartlink
Chairman

- Manufacturing Society of Australia (ManSA)
National President